Ad revenue is one of the most lucrative monetization methods for website owners. Although some publishers take it upon themselves to sell their ad space, most opt for working with an advertising network. These networks serve as the middleman, connecting buyers to publishers willing to display ads for the right price. In the end, publishers make money, advertisers get to showcase their ads, and ad networks take a percentage of the revenue share for their part.
However, as simple as that sounds, many bloggers struggle to earn as much as they should. Because, while there's an endless supply of networks out there, a lot do the bare minimum for bloggers. So, if you're looking for a bigger slice of the profit pie–not just any old network will do. To access premium campaigns and premium rates, you'll need to partner with some of the best ad platforms out there.
What is Google AdSense?
Google's AdSense is one of the easiest and most out-of-the-box products when it comes to advertising networks–especially among new bloggers. They offer a relatively streamlined process and set-it and forget-it experience that makes earning ad revenue feel very easy, hands-off, and passive. Now, who wouldn't love that?
They support contextual ads, which is a fancy way of saying Google ads try and supply relevant ads based on keywords within your website's content and a variety of ad formats for publishers to work with.
Supported ad types include display ads, text ads, mobile ads, video ads, game ads, native ads, in-feed/in-article ads, and pop-ups.
Webmasters simply need to make a Google account and then apply to get started. Although they have no minimum traffic or page view requirement to join, they do assess website metrics and core web vitals as a form of quality control. However, their assessment of websites is not very transparent, so it's best to aim for unique content and decent traffic on your website.
Integration onto your website requires a simple WordPress plugin. Once in, a publisher has strict guidelines to follow. For example, AdSense may reject or disable itself at any point (and without notification!) if it deems content is violating policies, falsely representing a product, displaying copyrighted material, or intending to exploit in an apparent search for deliberate monetization via Adsense.
They operate on a CPC (click-per-cost) revenue model, meaning you get paid only when a user clicks on an ad and delivers on a NET30 schedule (monthly payments). Partners can cash out via check, Electronic Funds Transfer (EFT), Payoneer, or Wire Transfer (they do not support Paypal) so long as they meet the minimum payment threshold of $10.
Why Do You Need an Adsense Alternative?
Low Payment Rates
Despite its reputation, Adsense payouts are among the lowest for networks. One main reason is that AdSense ads are sold based on an Ad Rank system that prioritizes certain bids/advertisers. As a result, bloggers don't necessarily receive the highest bid submitted.
To reiterate, this monetization partner does not choose the highest bid for you. This is a major red flag as the network undermines your inventory value and lessens the money going into your pocket.
In addition to low payment rates, earning revenue through CPC can be tricky. Other networks offer CPM (cost-per-impression) and CPA (cost-per-action) revenue models, which can be more profitable. However, CPM models are probably the most popular since payment is for ad views.
Lack of Customer Service
It's no secret that AdSense severely lacks customer service or support. Although automation is desirable in an advertising platform, actual human support goes long when problems arise.
Issues plaguing publishers include broken websites, ad fraud, and payment issues. When these issues aren't dealt with swiftly, bloggers risk losing revenue, declining website quality, and lost traffic. So how long are you willing to wait for a resolution?
Unexplained Bans
They're notorious for banning and restricting accounts with no warning or follow-up explanation. As we've noted before, AdSense is not very transparent. Couple strict guidelines with poor customer support, and you get a monetization nightmare.
For any blogger keeping all their eggs in the AdSense basket, this means a total loss of revenue. Not to mention the pain and frustration that comes with attempting to salvage your account and earnings.
Poor User Experience
User experience is a highly critical metric that publishers must care for. To sum up, it's about catering to your audience and the ease and enjoyment at which they visit your website. Poor user experience can bring about a host of issues such as high bounce rates, declining traffic, the user enabling an ad blocker, and revenue loss.
AdSense ad units are not the most website-friendly, leading to a poor user experience. From a viewer's perspective, they can easily appear spammy and irrelevant.
Additionally, their ads can lead to poor loading speed, negatively impacting user experience. For example, 40% of all users will abandon a site that takes longer than 3 seconds to load.
Other alternative platforms do a better job of providing quality ads relevant to the user. In addition, they can offer more ad types, control, and optimization to allow bloggers to have a sleek or visually-appealing ad layout that doesn't hinder website speed.
Lack of Revenue Optimization
AdSense is relatively behind the times in delivering optimizing technology to its publishers. As a result, publishers struggle to scale their earnings and hit revenue maximization.
Nowadays, strategizing and experimenting are needed to create high-performing ad units. Most ad network alternatives offer some level of tech or optimizing tools for crafting the best strategy for each site. For example, a platform might offer ad placement optimization or website speed tools.
Bloggers who rely on AdSense must complete all the manual testing and fine-tuning themselves. This is challenging for CPC and CPA ad types. Publishers can't focus on visibility (like they would for CPM ads) but must investigate engagement and activity areas.
Best Google Adsense Alternatives
With how streamlined and beginner-friendly AdSense is, it's no surprise that most publishers start there. However, bloggers should be encouraged to tread the ad network landscape to find other providers who can deliver optimized ads and high earnings.
As we discussed earlier, AdSense is full of shortcomings and restrictions. By integrating or switching to a new platform, bloggers can escape the limitations set by AdSense.
Newor Media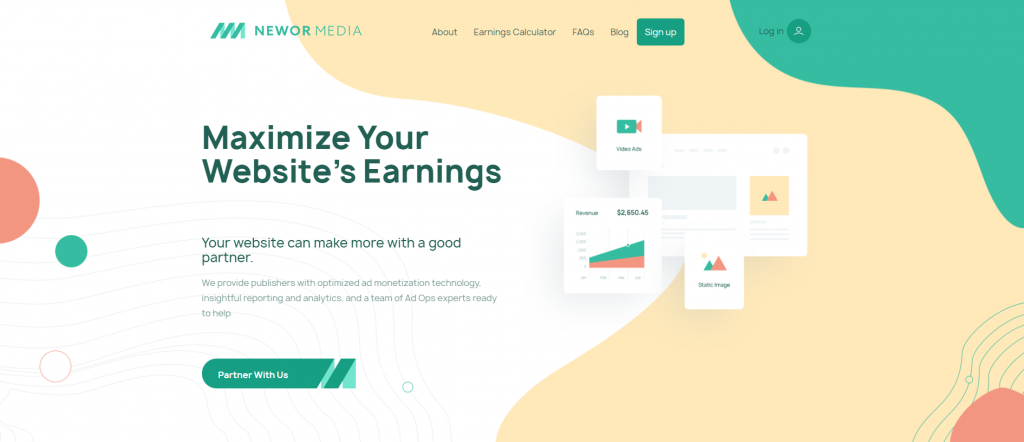 Newor Media is a header bidding platform that has quickly become popular despite being a newer company. Their easy-to-use platform, focus on revenue maximization, abundant ad and website optimizing tools, and impressive network stack makes them a competitive ads program and popular alternative.
They offer a strong range of different types of ads, including sticky ads, display ads, native, video ads, interstitials, vignettes, and more. Dedicated account reps will work with publishers to optimize ad placement for user experience, performance, and speed. In addition to their proprietary tech, they offer a consent management platform (for pesky privacy laws) and Adblock revenue recovery solutions.
They have a minimum traffic requirement of 30,000 unique users per month and don't hold publishers to contracts or exclusivity agreements. So, if you don't want to do away with your AdSense account, they'd be willing to integrate the network. In addition, they offer guaranteed payment (entirely true!) on a NET30 basis despite network clawbacks. Payouts can be made via Paypal, Wire Transfer, and Payoneer.
Amazon Associates (Affiliate Program)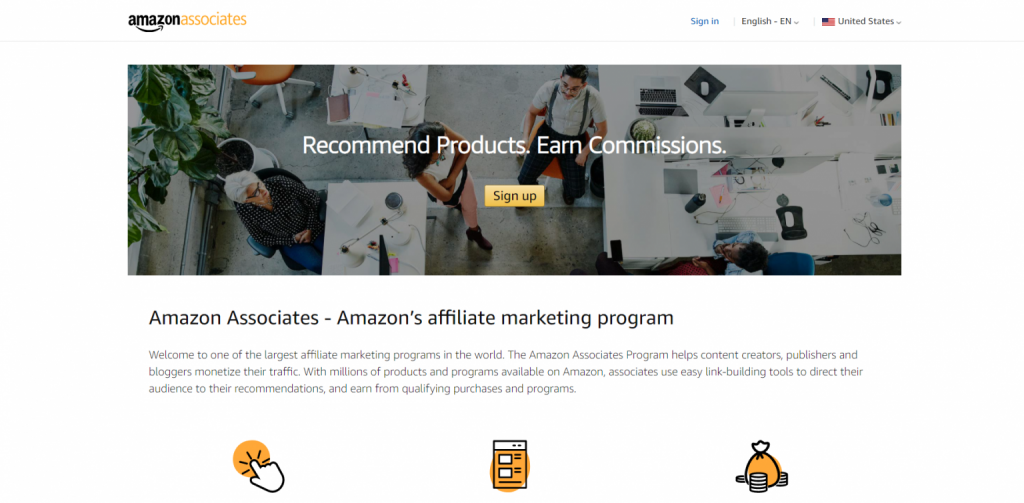 A major Google competitor, Amazon Associates, is an easy-to-use platform for publishers to ditch conventional ad space and earn with affiliate marketing. Unlike other networks that work to display visual advertisements to your viewers, Amazon Associates works through embedded links within your content. If a user purchases a product using the link, you earn revenue.
There's no traffic requirement or restrictive guidelines to join. But there are strict guidelines to adhere to once you're in the program. It's also worth noting, if your written content is less than subpar, you may have trouble earning with them. To be successful, you'll need to leverage meaningful and engaging text with organic product promotion.
Pros: Bloggers can earn affiliate income. In-text ads are less intrusive than other ad types.
Cons: You only get paid when the item is purchased, not per click.
Why we like them more than AdSense: They offer publishers a break from traditional advertising and the capability to earn a higher commission on user action.
Amazon Native Shopping Ads
Amazon Native Shopping Ads is a unique and highly desired contextual ad network. Unlike AdSense, when a user clicks through to an advertiser's website, Amazon Native Shopping Ad partners earn commission on the sale of any items purchased. This has completely displaced social media as the go-to platform for affiliate marketing.
Since Amazon has one of the highest e-commerce conversion rates in the industry, the platform is a very lucrative alternative to AdSense. Luckily for bloggers, they have no traffic requirement or strict criteria to be accepted. The platform pays on a NET60 schedule and offers payouts when a minimum payout threshold of $10 is met via Check, Amazon Gift Card, and Direct Deposit.
Pros: Bloggers earn commission on all items in a cart and get a reputable partner.
Cons: The platform works with US and EU traffic only. Additionally, integrating the widget can be difficult for beginners.
Why we like them more than AdSense: Their contextual ads offer more earning potential.
Media.net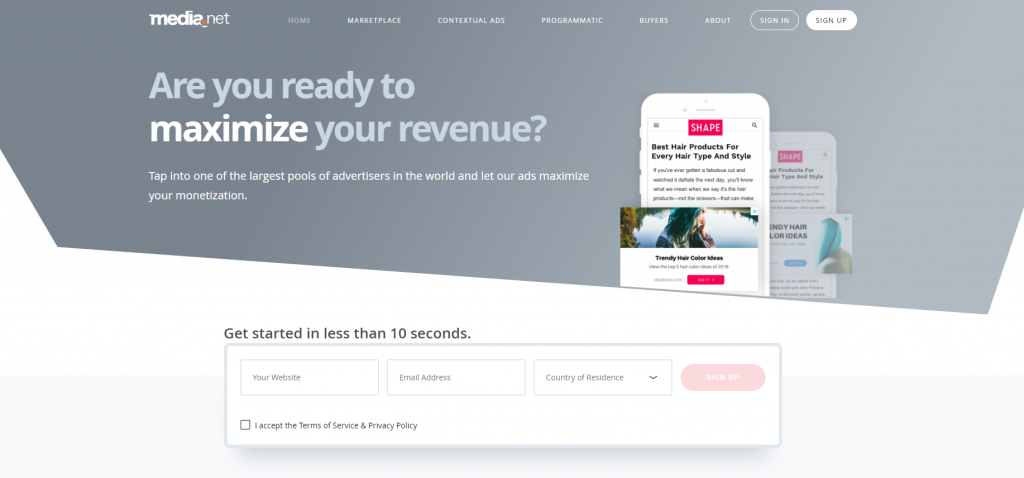 This direct AdSense competitor is a global network run by Yahoo! and Bing, that focuses on contextual advertising. Publishers turn to Media.net for their vast global demand pool, friendly set-up, reliable customer service, and an insightful dashboard that provides critical metrics.
Aside from contextual ads, they support different ad types, including native shopping ads and display ads. They also have a unique customization feature that allows bloggers to change layout color schemes and designs.
They operate on a PPC (pay per click) basis, requiring publishers to have competitive traffic to earn revenue. Although they don't have a traffic requirement, they have other guidelines and criteria for joining. They operate on a NET30 basis and payout via Paypal or Wire Transfer.
Pros: They offer in-depth reporting to track key metrics so you can optimize accordingly.
Cons: The platform works with traffic only from the US, Canada, and the UK.
Why we like them more than AdSense: Bloggers have access to more advertisers and ad formats.
Infolinks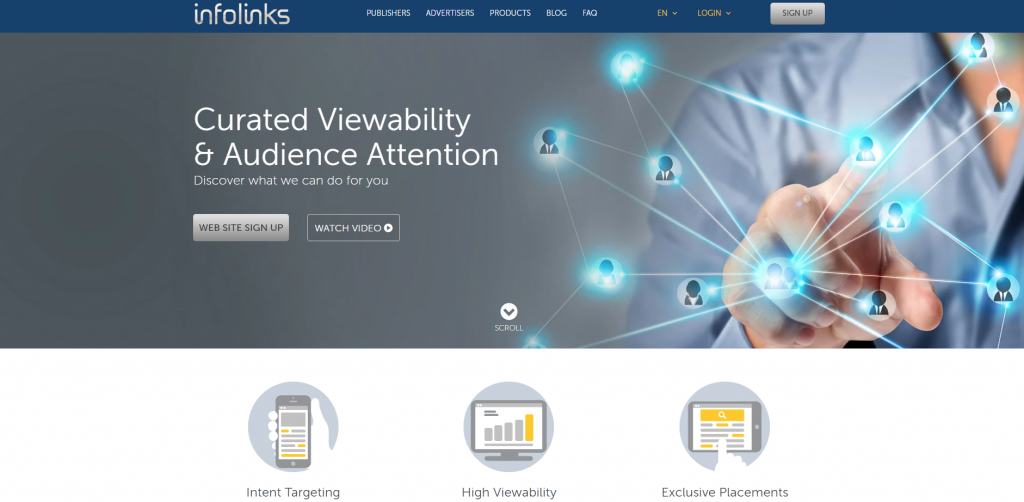 For bloggers looking to break away from display ads, Infolinks is a great alternative that specializes in in-text advertising. The platform indexes publisher content for specific keywords, then providers relevant ads within the text. This provider will help you take advantage of your efforts if you're an SEO lover. They offer sidebar, banner ( header and footers), and expandable ads in terms of actual display ads.
Infolinks has no monthly page view/traffic requirements. However, the platform uses a CPC revenue model, requiring decent traffic to see a profit. They pay on a NET45 payment schedule, and payout options include PayPal, Payoneer, ACH, Western Union, and eCheck.
Pros: They offer a solid alternative to display advertising.
Cons: In-text advertising can slow page load speed.
Why we like them more than AdSense: They offer ways to capitalize off of SEO and non-traditional display ad types.
PropellerAds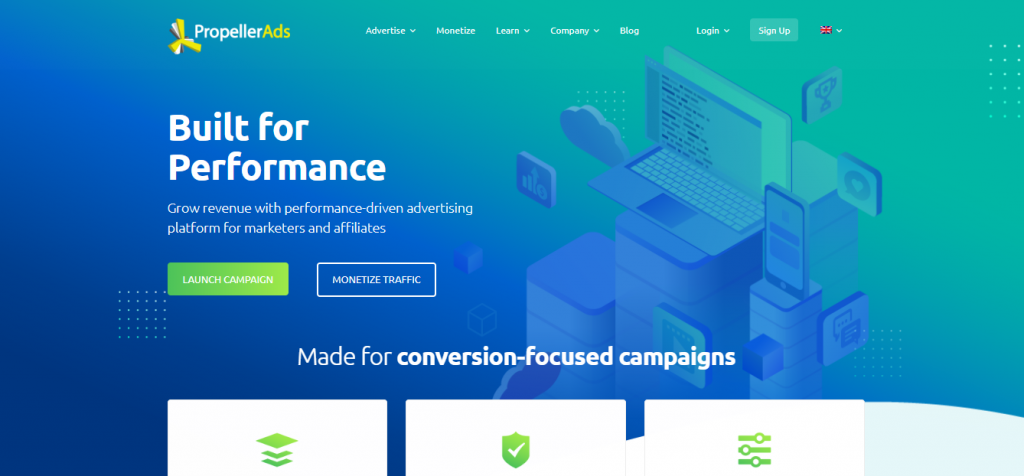 PropellerAds has been a long-standing trusted ad network for bloggers. Their longevity as a reputable AdSense alternative is due to their fraud protection technology, ad-block solution feature, and AI-assisted ad optimization.
It's a self-serve ad platform that allows monetizing on desktop websites, mobile websites, and apps. In addition to the standard ad types, they support sponsored links and push notifications. Unfortunately, there's no header bidding on the platform, severely limiting the demand pool.
They encourage small websites to sign-up by having no traffic requirement. Although they don't limit themselves to a specific niche, digital media and technology websites tend to take up a bulk of their network. PropellerAds operates on a NET30 basis, with payout available via PayPal, Payoneer, and Wire Transfer.
Pros: They offer a wide range of different ads and push notifications.
Cons: They lack header bidding and offer low CPM's.
Why we like them more than AdSense: They equip publishers with technology to optimize their ads.
Bidvertiser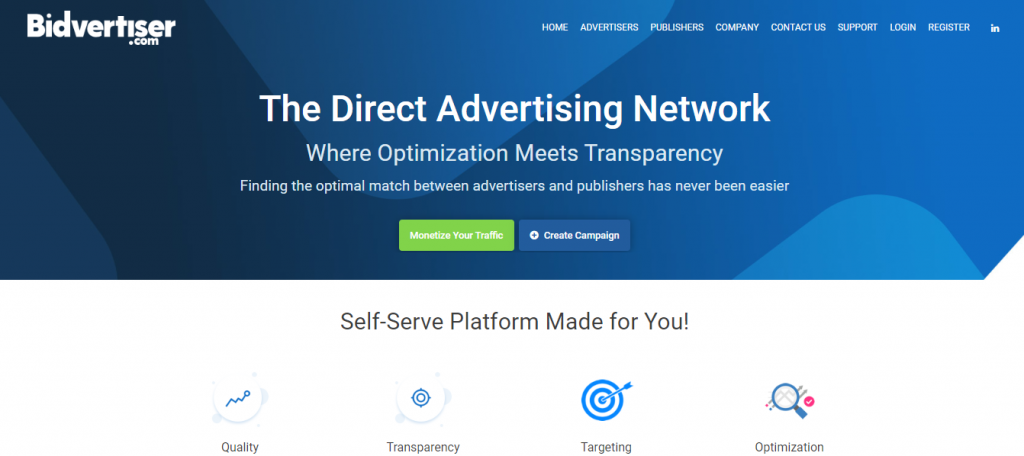 Another blogger favorite, Bidvertiser, is a well-paying provider that allows publishers to create multiple revenue streams. Bloggers can earn money through clicks, conversions, and their referral program.
The platform itself operates on a bidding campaign system, allowing advertisers to assess your site and try to outbid competitors. So, if your site is of high quality, you can expect premium rates to come through. They boast a 100% fill-rate across desktop and mobile platforms and offer the standard ad types (banner ads, native ads, etc.) and trendier types as well (like pop-under ads and sliders).
There is no traffic requirement to join and rather loose website criteria. However, if your website is small and has little-to-no reputation, you won't make much through their platform. Payment occurs on a NET30 schedule via PayPal or Check.
Pros: They offer multiple revenue stream opportunities and the potential to earn a lot of money through their bidding process.
Cons: A website must be well-known and established to access premium payouts.
Why we like them more than AdSense: They support a greater range of ad types and offer competitive customization features.
BuySellAds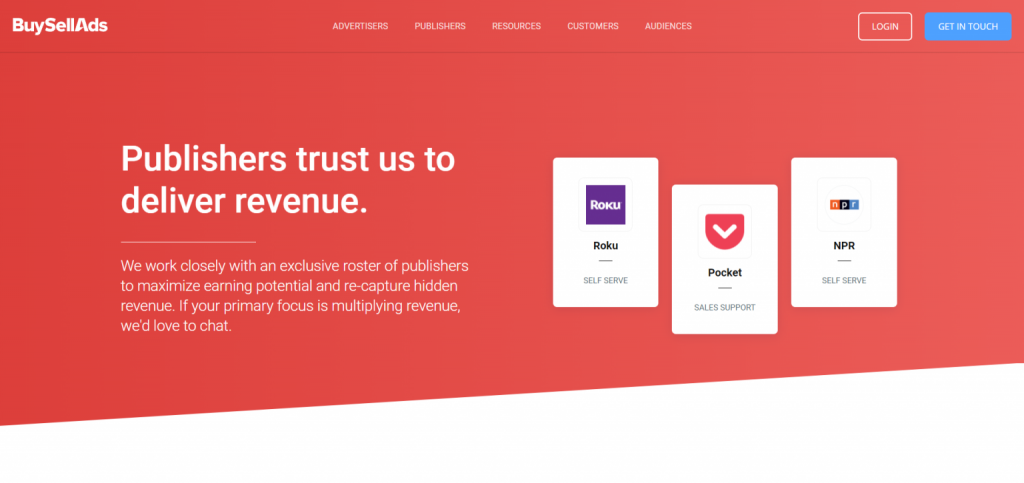 BuySellAds is a more transparent ad network that gives bloggers more control over ad units than AdSense. The platform connects you directly to advertisers, then allows you to set pricing and auction off your ad space. The power is in your hands—just be sure not to price yourself out of the market!
Flexible ad types and RSS feed ads are available to bloggers. Unlike AdSense, the platform does not automatically display contextual ads. They also don't display automated or target ads. However, they have automatic and manual features to assist with ad approval. For publishers, this means having the ability to be picky with their advertisers/ads shown.
A minimum of 10,000 monthly page views is required to get started. They operate on a NET30 basis and have various payout options, including PayPal, Wire Transfer, and Direct Deposit.
Pros: Ease of setup, small traffic requirement, and varying ad types.
Cons: They take a high commission percentage, 25%, and more effort than other hands-off networks.
Why we like them more than AdSense: Publishers have more control and transparency in the bidding process.
Skimlinks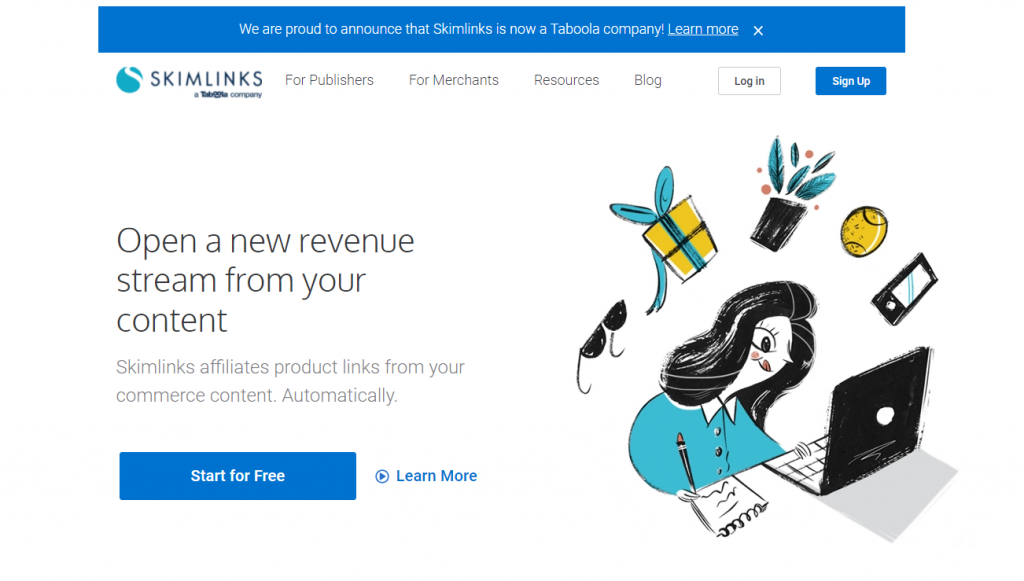 A popular AdSense alternative, SkimLinks primarily focuses on affiliate marketing. It scans publisher content and automatically embeds an affiliate link to any mentioned products (through affiliate programs or e-commerce product pages). In addition, they offer easy integration and powerful analytic tools for insightful reporting to bloggers looking to earn affiliate revenue.
There are no traffic requirements to join, but you must meet their site criteria list. Although they're an excellent option for monetizing text content, they don't support other ad types. They also take a 25% cut of publisher commission. Payments are on a NET30 basis, and payouts occur via PayPal, Direct Deposit, or Check.
Pros: They support seamless integration of affiliate marketing into text content.
Cons: They lack ad types, have poor customer support services, and take a hefty commission percentage.
Why we like them more than AdSense: Publishers have access to more programs, merchants, and partners in terms of affiliate marketing.
Revcontent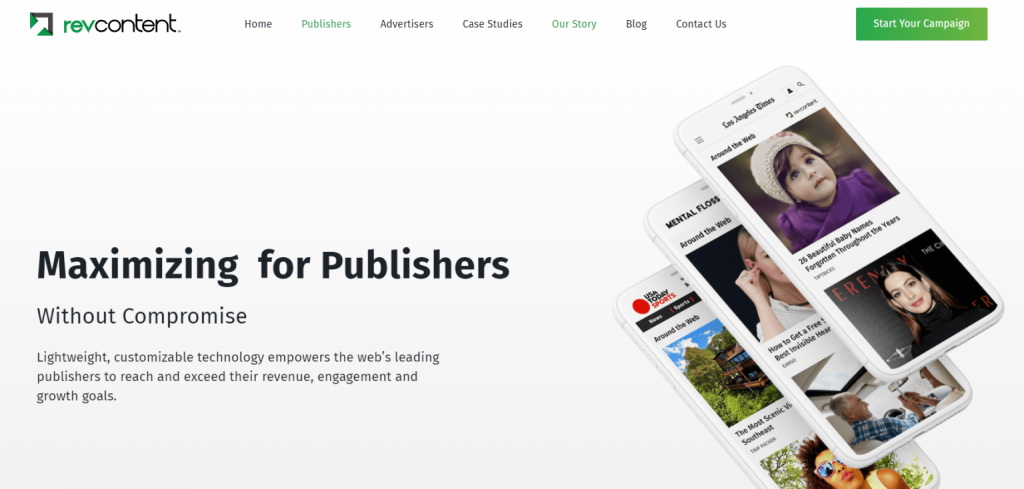 RevContent has made quite the name for itself as a fast-growing ad network, supporting publishers and brands that focus on top content delivery–like Forbes and NBC News, to name drop a few. As a result of concentrating on high-quality content, the network has partnerships with high-paying advertisers. Additionally, they offer high-performing native ads and content recommendation technology to support bloggers.
The traffic requirement ranges from 50,000-80,000 visitors per month and includes other strict acceptance guidelines. They pay on a NET30 basis and via Paypal.
Pros: High-paying advertisers secure high payout rates. Publishers also receive high-performing ad rates and content optimization.
Cons: It can be pretty challenging to be accepted, and they focus primarily on native ads.
Why we like them more than AdSense: They offer high ad rates and content optimizing technology.
Adversal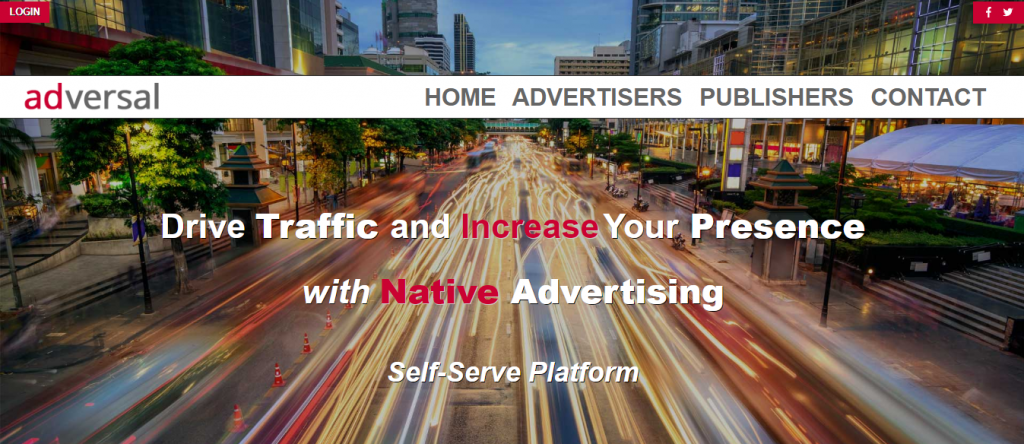 Adversal is a self-serve platform that, similarly to AdSense, creates a hands-off experience for its publishers. We're talking a quick and easy setup and a set-it and forget-it experience. Additionally, they allow publishers to pause, stop and start ad campaigns through their user-friendly interface.
They support video, display, and native ads types. Their tag management system filters and accesses these ads to prevent fraud. Adversal offers an affiliate marketing program, which is excellent for those wanting to diversify their revenue stream!
No contracts or commitments are required, but they have a traffic requirement of 50,000 visitors. Publishers hitting their minimum payment threshold of $20 are paid on a NET35 basis. Otherwise, it's a 65-day payout schedule. Payout options include PayPal, ACH, and Wire Transfer.
Pros: They've created a user-friendly process with no commitments or contracts required.
Cons: They offer a limited ad type supply and require publishers to have their own domain name.
Why we like them more than AdSense: Despite offering a limited variety of ad types, publishers still have more options and control over them than AdSense.
Adcash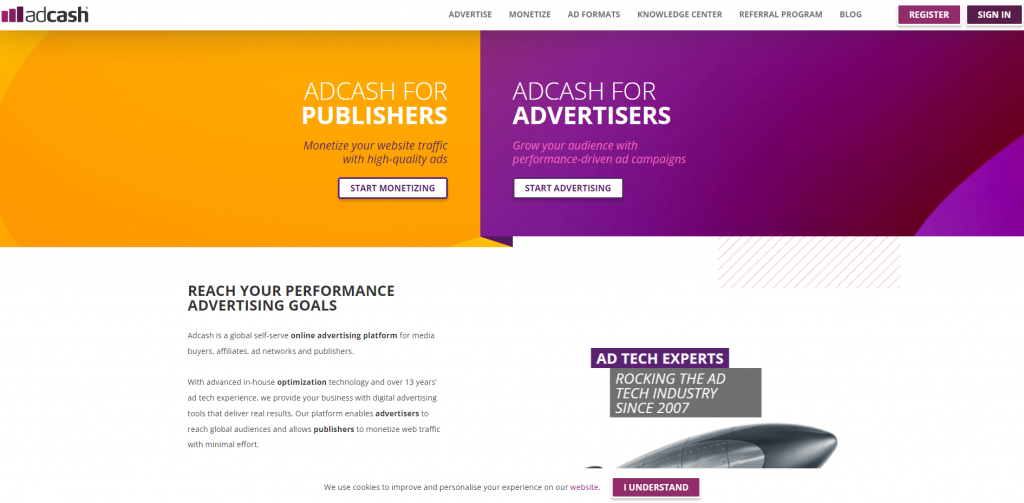 AdCash is an AdSense alternative favorite for bloggers with a worldwide audience. They offer coverage to over 196 countries outside the US, particularly helpful for bloggers whose primary traffic source is outside of the US. Equally impressive, they work to increase the conversions and installation of apps for their partners.
The platform offers a wide array of ad types ranging from standard display advertisements to in-stream video and pop-under ads. They give publishers complete control of ad units to create a layout to their liking. Additionally, they employ ad-blocking technology to help with revenue recovery.
There is no traffic requirement to join, making it fairly easy for new websites to join. They operate on a CPA (cost-per-action) basis, making payments on a NET30 schedule. Payment options include PayPal, Skrill, WebMoney, and Wire Transfer.
Pros: AdCash offers global coverage, allowing publishers to get paid for various segments of their traffic. Additionally, they have an excellent customer service reputation.
Cons: They work on a CPA basis and offer bare minimum reporting and analytics.
Why we like them more than AdSense: AdCash gives publishers greater control and better transparency into pricing.
Revenuehits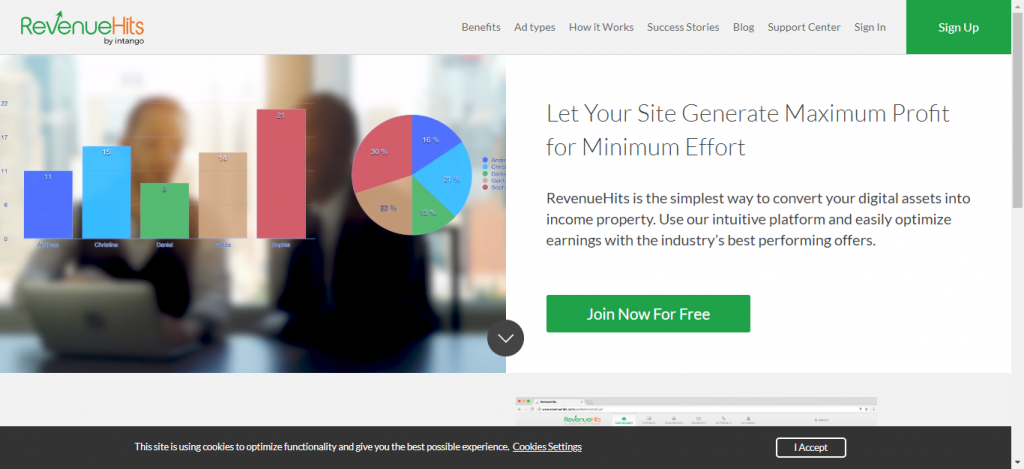 Despite being relatively new to the industry, RevenueHits is quite the popular ad network among bloggers. This can be attributed to their 100% fill rate, anti-pop-blocker feature, easy-to-use dashboard, and non-existent traffic requirement.
With them, publishers can take advantage of both geo-targetted and contextual advertising. They also offer ads such as banner ads, buttons, sliders, interstitials, and pop-under ads. Surprisingly, they don't support video ad types at this time. However, for anyone aiming for a 'replace my 9-5' profit, video ads are a necessity as they are very in-demand and offer some of the highest rates in the market.
RevenueHits works on a cost-per-action revenue model, which means a user will have to complete a specific action for you to receive payment. They operate on a NET30 basis and offer payment via PayPal, wire transfer, Payoneer, and Bitcoin.
Pros: There are no payout fees, and they have many online resources to help you understand traffic, analytics, and back-end ad management.
Cons: They don't offer real-time analytic updates, and in terms of optimizing ad units, it's a very self-serve provider.
Why we like them more than AdSense: They offer more ad types and resources for understanding/optimizing ad units as a whole.
Sovrn (Viglink)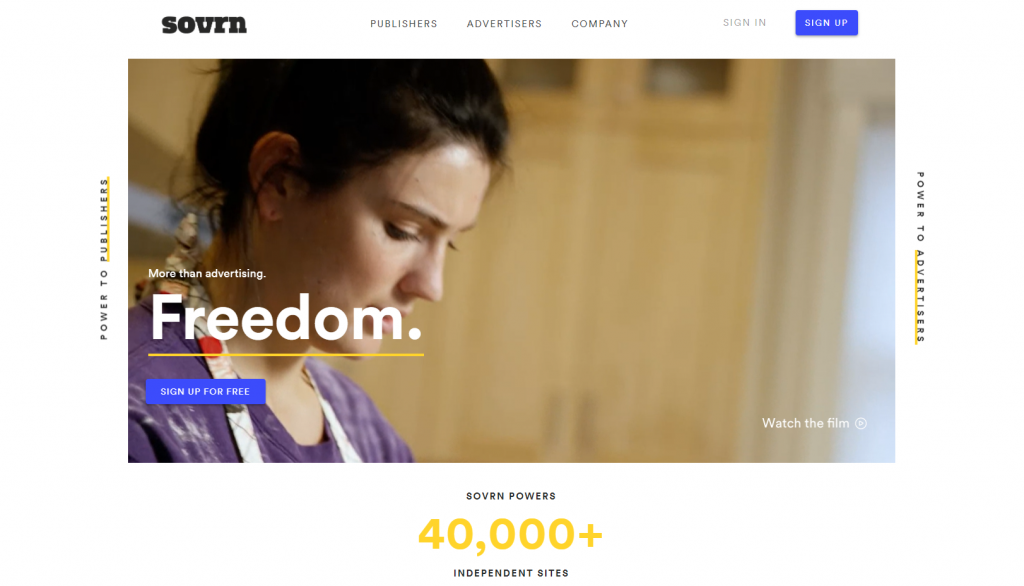 Sovrn // Commerce, formerly known as VigLink, is a go-to AdSense alternative for bloggers heavily involved in affiliate marketing. They automatically create links and in-text ads to product mentions (like e-commerce product pages and other affiliate programs) so that you're making money off clicks and resulting sales.
Their impressive tech features monetization tools that generate competition among advertisers and in-depth analytics for performance optimization. Additionally, they automate the entire affiliate earning process, making balancing the two monetization methods a lot easier.
They're very competitive as far as providers go (we're talking invite-only!). They also require the integration of another ad network for anyone looking for ad units. So, you'd have to opt-in for Meridian, their supported network, to create traditional ad space outside of their in-text ads. However, Meridian works on a CPM model if you decide to opt-in. They operate on a NET45 basis and offer payouts via PayPal, ACH, Wire Transfer, Check, eCheck.
Pros: They offer a hands-off approach to affiliate marketing and provide real-time reporting through their dashboard.
Cons: You're limited in terms of ad units without the addition of Meridian.
Why we like them more than AdSense: They cater better to bloggers within the e-commerce and affiliate-program industry.
Adsterra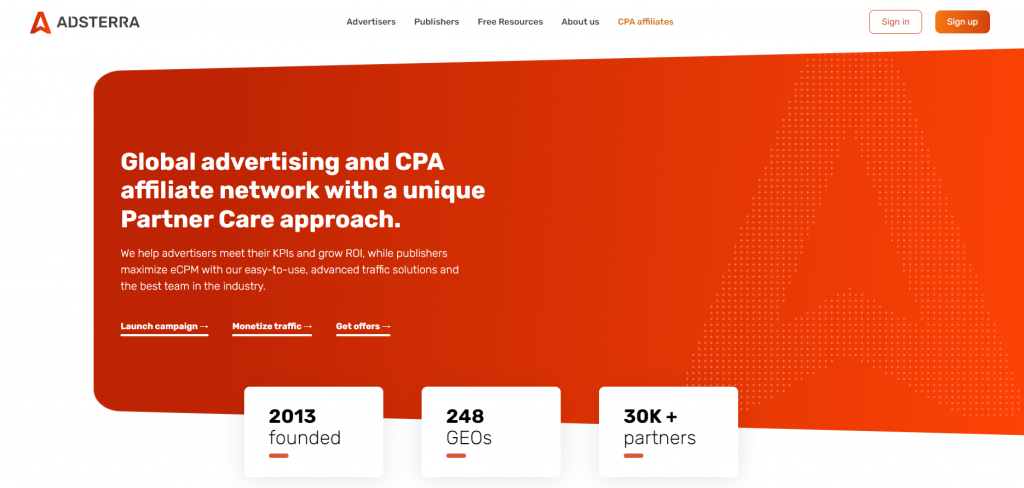 Adsterra is a well-known ad network with a strong reputation for holding its own against Google's AdSense. It offers an abundance of different ad types, a rather impressive pool of advertisers, a user-friendly ad platform, and a 100% fill rate which all contribute to its competitive edge.
Beyond connecting bloggers to advertisers, they focus a great deal on brand safety. For example, all ads are run through a proprietary fraud detection system to prevent ad fraud, malvertising, and redirects.
Publishers need 5,000 visitors for pop-under ads and 50,000 impressions per month for banner displays to qualify. Once accepted, publishers can work with any pricing models: CPM, CPA, and CPC. They operate on a NET15 basis and offer payouts through Paypal, Webmoney, Wire Transfer, Bitcoin, and Paxum.
Pros: Their significant demand-pool results in some of the industry's highest CPM's, and support popads.
Cons: They lack the optimizing technology needed to pinpoint the best ad layouts for publishers and revenue maximization strategies.
Why we like them more than AdSense: Bloggers can do more with their ad space using the variety of ad types available. They also do more in terms of brand/website safety.
Ezoic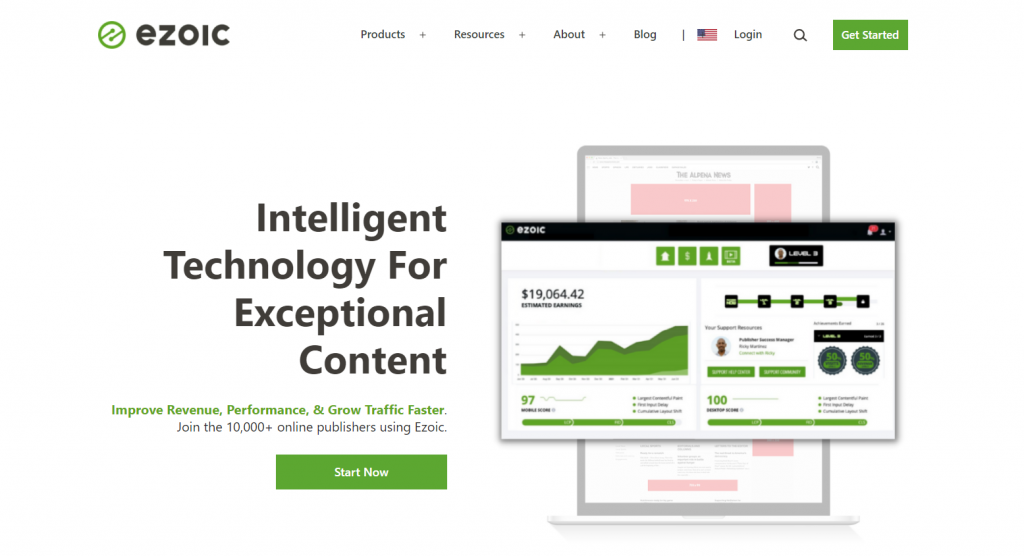 Ezoic is a Google-certified partner that stands out by serving as a header bidding provider. They work with AdSense and other networks to amplify competition and create competitive ad rates during real-time auctions. Getting started is relatively easy and will require no in-depth tech know-how on your end.
For most bloggers, the real draw is their advanced AI technology. For example, bloggers can take advantage of the Ad Tester feature, which allows you to test new ad formats and layouts to increase revenue. In addition, insightful analytics are available, and a website speed calculator. Unfortunately, they do charge a monthly service fee whether you use these great add-ons or not. However, it can be waived by slapping an Ezoic logo on your website.
They support various ad types and operate on cost-per-impressions. To get started, you need a minimum of 10,000 monthly page views. They're on a NET30 payment schedule and offer payouts via Paypal, Payoneer, Wire Transfers, Direct Bank Deposit, and Check.
Pros: They offer optimizing technology and deep-analytic reporting.
Cons: Ezoic is one of the few providers that charge a service fee. Additionally, they don't have a great customer service reputation and require quite a bit of fine-tuning before seeing an increase in yield.
Why we like them more than AdSense: Publishers have more control over ad units and are given tools for better ad performance.
AdThrive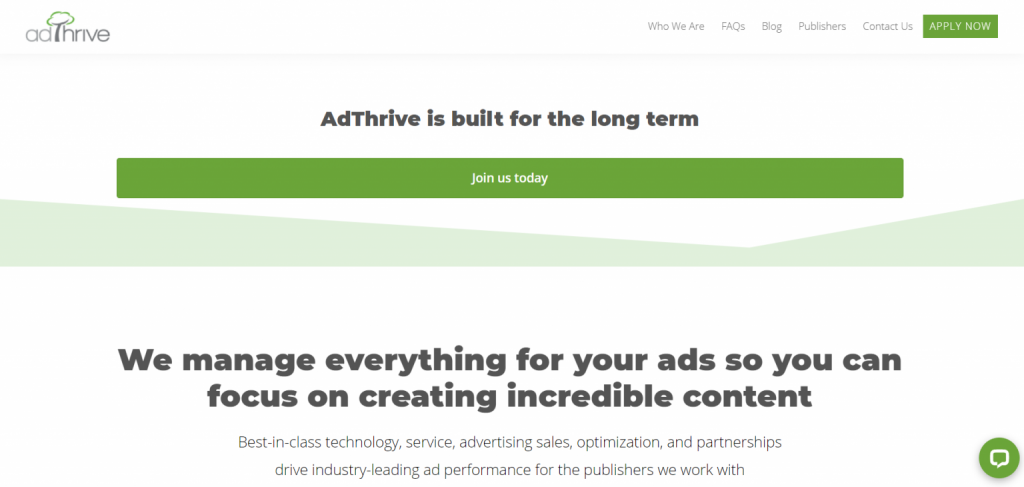 For bloggers active in the lifestyle niche, AdThrive is one of the best ad network alternatives to AdSense. They work in the vertical–which means they're best equipped to deliver highly relevant ads. In addition to serving high-quality, relevant ads, they have a whopping 75% revenue share, one of the highest in the industry.
Publishers also benefit from collaborative monetization strategies and high display and video ad incentives. But, of course, if these ad types are not for you, AdThrive supports many other ad types. Furthermore, they guarantee payment– a rarity among networks.
Transparently, they're not supportive of new websites. Publishers need to meet a traffic requirement of 100,000 monthly visitors to join. So while they do give their publishers many added advantages, they expect websites to be relatively developed and competitive. Bloggers receive pay on a CPM model and NET45 basis. They offer payouts via Paypal, Check, Direct Deposit, and Wire Transfer.
Pros: They offer the best advertisers within the lifestyle niche and guarantee payment.
Cons: It's challenging to join the network, and it caters to a particular niche.
Why we like them more than AdSense: They offer higher ad payouts than AdSense and deliver more relevant ads.
Summary
Although Google's AdSense is one of the biggest names in the industry, any blogger looking to scale their earnings will quickly hit a revenue wall. Rather than stay stuck, it's critical for publishers to find an AdSense alternative that can provide all the tools, tech, and latest & greatest insight into optimizing the ad experience.
Not ready to completely leave AdSense yet? Integrate Newor Media into your stack to:
Diversify your revenue stream
Optimize your ad layout and website speed
Add more into your network stack
And more!
Check out our free earnings calculator to see what kind of earnings boost is waiting for you.