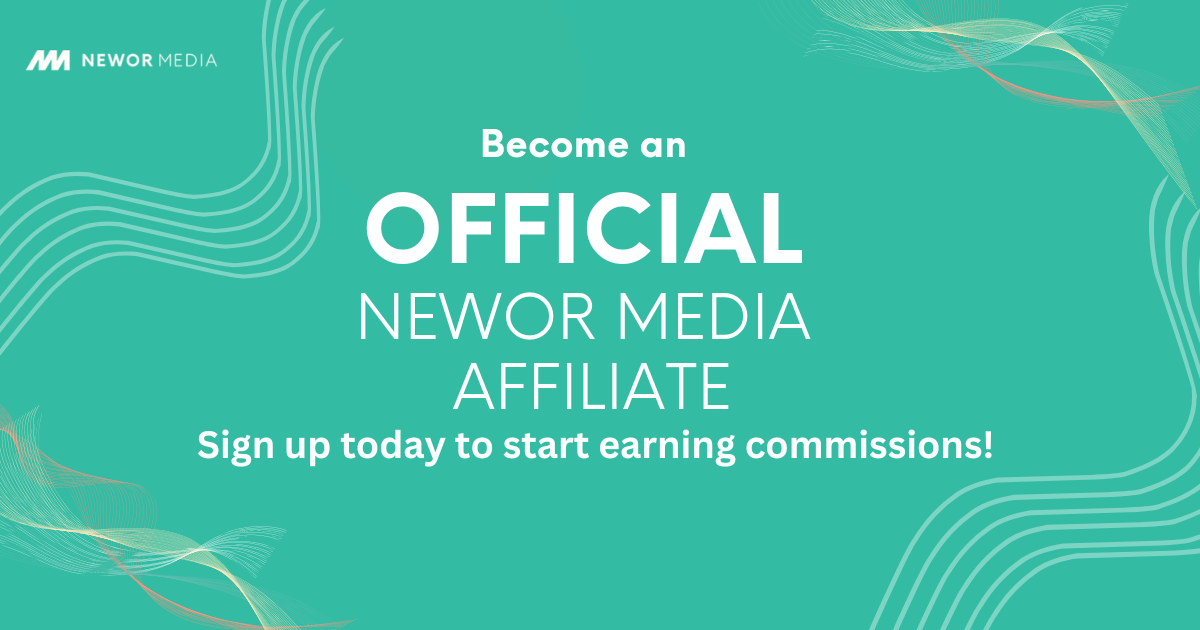 Newor Media's new Affiliate program gives you the opportunity to earn 5% commission on advertising revenue from high-quality websites you refer to Newor Media.


A Financial Times Top 10 technology company, Newor Media is a leader in programmatic media and website monetization and we are renowned for our performance, partnership and customer service to independent publishers of premiere websites. As a Newor Media Affiliate, you have the ability to leverage your network and industry expertise to generate passive income by inspiring publishers of quality websites to partner with Newor Media. We even provide you with creative assets and guidance to help you drive referrals that can help you earn commission.


To help you determine if our Affiliate program is a good fit for you and to help you get started, we have assembled below a list of the most frequently asked questions (FAQ). This helpful information will let you know what to expect as a Newor Media Affiliate.
Frequently Asked Questions
How do I become a Newor Media Affiliate?
The process is easy and straightforward! Just head over to our sign-up page and fill out a short form to enroll. Once you've enrolled in Newor's Affiliate Program, our platform partner, FirstPromoter, will prompt you to create a login. Once logged in, you will be able to view your personalized dashboard of commissions, assets to promote Newor Media, and much more. FirstPromoter will then generate a personalized affiliate link for you to share with prospective publishers who have not worked with Newor Media before. This personalized link incorporates an exclusive tracking ID, enabling us to attribute to you those new publisher sign-ups that you refer to Newor Media. You're free to start utilizing your affiliate link right away. (Kindly note that participation in our affiliate program is not available for non-profit websites and affiliates may not refer their own websites.)
What is the potential earning as an affiliate?
Affiliates may earn a 5% commission on a publisher's advertising revenue generated through Newor Media for the first 12 months. When a publisher applies to Newor Media through your affiliate link, FirstPromoter will attribute the referral to you and should that publisher launch with Newor Media, commissions will start accumulating from day 1.
Am I allowed to recommend others to join as affiliates as well?
Currently, our affiliate program does not accommodate Multi-Level Marketing (MLM). To clarify, you won't be able to earn commissions from affiliates you refer.
When and how will I receive my payments?
Affiliates can receive their payments through PayPal or bank transfers. To receive your earnings, you must accrue a minimum of $50 in commission to meet the payout criteria. Our terms for affiliate payouts related to customer referrals adhere to a 60-day net payment schedule (for instance, earnings from October would be disbursed by the end of December).
What is the source of my commission?
As an Affiliate, you will earn commissions on the revenue Newor Media generates from websites you refer. Referrals are subject to program Terms and Conditions and referred websites are subject to Newor Media's platform requirements for carriage.
What are the criteria for a conversion?
When a prospective Newor Media publisher clicks the affiliate link, they are redirected to Newor Media's dedicated affiliate webpage. The prospective publisher then must sign up and begin using Newor Media's ad monetization platform for their revenue to be eligible for affiliate commission. Referred websites are subject to Newor Media's criteria. A conversion takes place when a publisher starts generating revenue through Newor Media. To qualify as a conversion, a publisher must sign-up, integrate, and then 'launch' Newor Media and remain exclusively active with Newor Media for at least 60 days (about 2 months) after their initial launch. An affiliate will start earning commission on day 1. Commissions earned will be paid out when minimum payout thresholds have been reached. To be eligible, referrals must run exclusively with Newor Media, must never have worked with Newor Media before, and must also meet Newor Media's eligibility requirements for websites. Again, non-profits are not eligible.
How long does it take for my conversion (new publisher) to start using Newor Media? 
The typical onboarding period for publishers who register with Newor Media is less than one week. Following the site's launch, you'll start earning commissions from that referral.
Are there any limits on how many conversions I can have/how much commission I can make?
No, there are no restrictions on the conversion rate, and there's no limit on commissions. Feel free to bring in as many sites as you like, as long as they meet Newor Media's requirements! Again, the minimum payment threshold is $50, so you'll need to have at least one successful conversion.
How are conversions tracked?
Conversions are monitored via our third-party provider, FirstPromoter. Every affiliate link comprises an exclusive tracking ID and cookie, both of which are associated with you and your Newor Media affiliate account.
When a prospective publisher clicks on your personalized affiliate link, they will be directed to our website. If they then register and begin utilizing Newor, meeting our eligibility criteria, you will receive acknowledgment for the conversion.
Do you provide any assets for me to use for my website or social media?
Yes! Newor Media will provide you with various creative materials that you can utilize to endorse and promote our services. Rather than solely sharing your referral link, you have the option to display a banner on your website or social media platform.
Within what timeframe must an individual sign up after clicking my affiliate link for me to receive credit for the referral?
Our designated window is set at 30 days. If a prospective customer doesn't complete the sign-up process within this duration, the cookie will expire, and you won't receive credit for any form of conversion.
What if I refer someone to use Newor, but they have already used Newor in the past? 
Publishers who have previously worked with Newor Media do not meet the requirements for Newor Media's affiliate program, and revenues earned on their sites are not eligible for affiliate commission. The Affiliate Program is specifically designed for enlisting new customers.
Is it possible for me to view the sites I recommend to Newor Media?
No, this feature is not available. In order to maintain the confidentiality of the domain information for referred sites, affiliates and referrals do not have the capability to access and view the sites they have referred.
What happens if a potential referral clicks more than one Newor referral link in the past 30 days?
The affiliate whose referral link was clicked LAST (aka the most recently clicked) prior to signup will receive the commission if the publisher converts.